Don't Expect Too Many Polls
With the January 2020 debate coming up, Andrew Yang has 1 qualifying poll and Tom Steyer has 2 as of Monday morning (December 23rd). Currently only Yang (29% odds) and Steyer (17% odds) have double-digit odds of qualifying for the January debate based on PredictIt data.
Polling Slows Down A Lot During The Holidays
As Nate Silver has tweeted, polling does slow down a lot during the holidays.
During the 2016 cycle, NO national or early state (Iowa, New Hampshire, Nevada, South Carolina) polls were conducted between Christmas and New Years for either Republicans or Democrats. Below I've graphed what polls were conducted by similar pollsters at this time in the 2016 primaries based on RealClearPolitics 2016 state and national polls. Note that the chart below is based on when the poll was in the field. Polls may be released a few days after pollsters have finished surveying.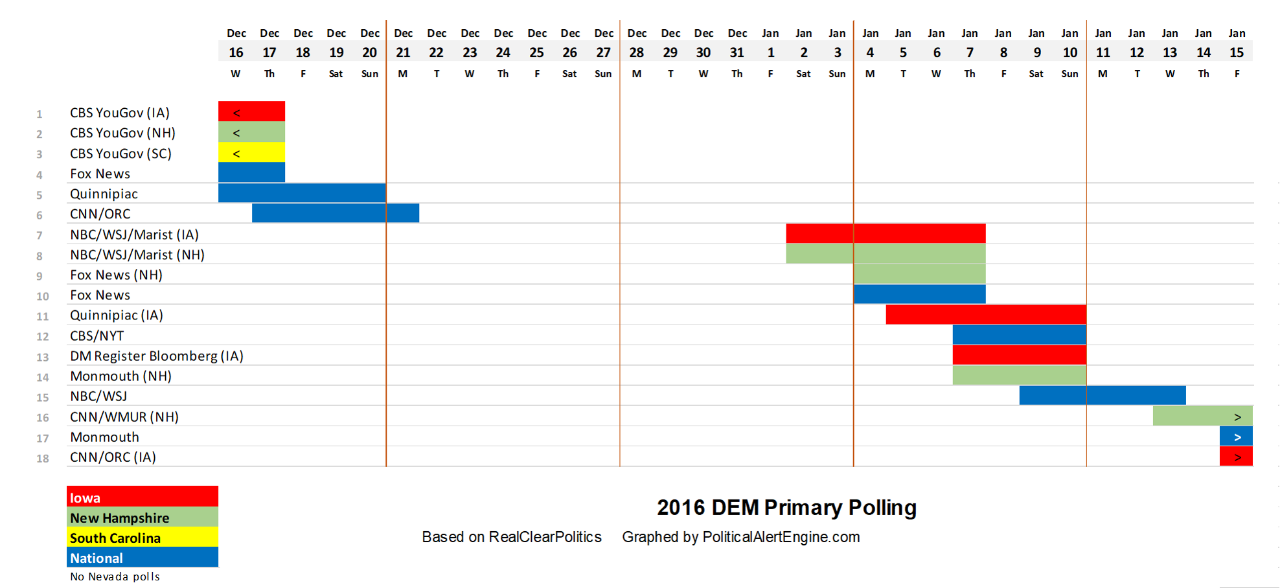 Barring a surprise release on Monday Dec. 23rd, it's quite likely there will be NO qualifying early state polls during the month of December.
What we know
As the Debate Tracker has noted, Monmouth plans to release one qualifying poll but we don't know whether it will be state or national.  
If Yang Qualifies, It Will Likely Come Down to the Wire. If Not, Yang May Get a B.
With the debate scheduled for Tuesday January 14th in Des Monies and Friday January 10th, it could well come down to the wire as polls conducted during the first week of January will be released.
When asked about the debate thresholds in September, Yang told Politico, "I'm Asian, so I love tests." He added that the DNC's rules have been "incredibly helpful" to him because he knows how many donors — and what polling numbers — he needs to aim for.
Indeed, Yang has got a 100% on the debate test so far with a 6 out of 6 attendance record. If he fails to make it, his grade would drop to a 86% (6 out of 7) because MATH.
PredictIt Data
Here's a dashboard I created, where you can track the odds of a specific candidate making the debate:
https://www.politicalalertengine.com/analytics/market-overview/january-debate
Given the polling drought and the potential for polls to come in the last minute, I expect this market to be a wild ride for Yang, Steyer, and (possibly) Gabbard. To qualify, a candidate needs four polls at 5%+ or two early-state polls at 7%+. Here are the polling averages based on 538:
If you're Yang or Gabbard, you definitely want New Hampshire polls to be released. If you're Steyer, you definitely want state polls to be released – preferably South Carolina or Nevada.
To get the latest, follow me on twitter